Shopping Cart
Your Cart is Empty
There was an error with PayPal
Click here to try again
Thank you for your business!
You should be receiving an order confirmation from Paypal shortly.
Exit Shopping Cart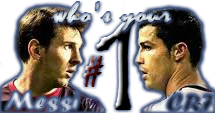 Cristiano Ronaldo and Messi - They are without a doubt the two best football superstars plying their trade on the world stage, but the big debate is who is better, who is #1?
Messi has proven himself by winning many football natches, titles and accolades, while scoring goals for fun and leaving opposing players with nightmares, but he has done so with a all star cast - where they have been play the beautiful game (football) together and in a team that has been better than all other in Spain and to a lesser extent the footballing world. Some will say that he hasn't proven himself in another team or league and that he doesn't show up for his national football team. Does that take away the gloss from this football MEGA star?
Cristiano Ronaldo's story is a little different. He had to endure the same scrutiny, that he does'nt show up for his country, and that he is money motivated and aggressive. Many will also say that they will take the millions that he is making any day and that Messi is making millions as well, also football is the beautiful game, but its the aggressive nature of the players why its so beautiful. Cristiano Ronaldo became a MEGA superstar at Manchester United FC - where he was he was operating at a higher level than his more seasoned team mates and most of the league. He was also playing in what was then considered the best and one of the most demanding leagues in the world - The Barclay's Premier League (BPL). Most, including myself thought that moving to Spain, would be then end, but his momentum has not slowed, its increasing. he scores goals for the fun of it, win games others think are lost, entertains etc, but is loved less.   
Lets hear what you have to say, tell your preference and tell us why.
/